Chicago Cosmetic Dental Care
Feeling good when you smile is a true asset. At the Chicago Cosmetic Dental offices of Larry A. Fisher, cosmetic dentistry by our dental team can offer you a head-turning smile.
Sometimes just a few minor changes make all the difference. In other cases, you may want to address many teeth. Bring us your concerns, and our doctors can plot the course for your ideal smile.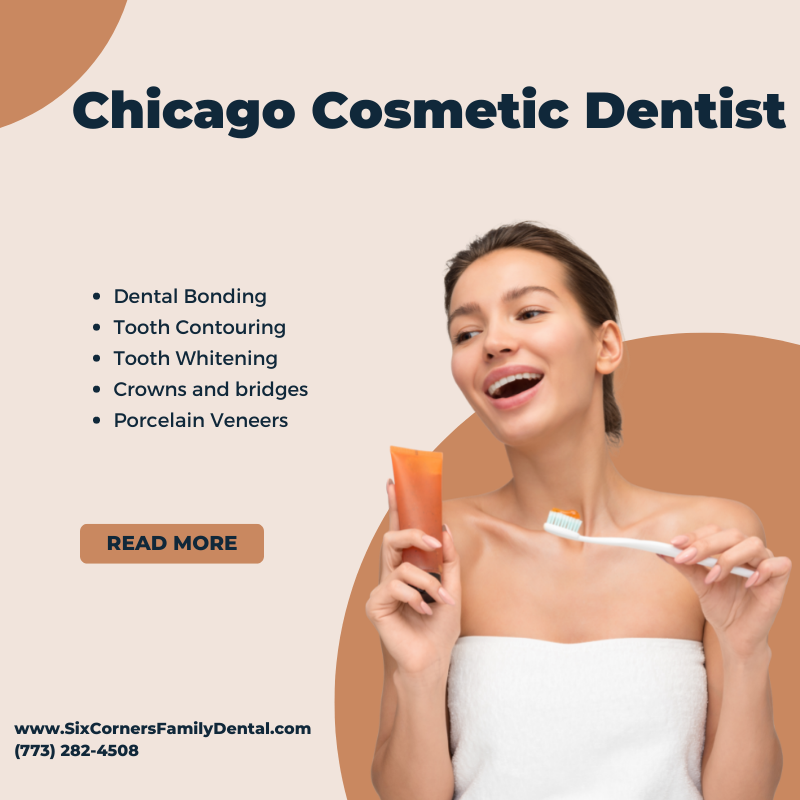 Our Chicago cosmetic dentistry services include:
🪥 Teeth Whitening
🪥 Porcelain Veneers
🪥 Dental Bonding
🪥 Dental Crowns
🪥 Dental Bridges
🪥 Dental Implants
Chicago Teeth Whitening
Teeth whitening can be one of the simplest and least expensive ways to improve your smile.
Are your teeth not as white as they once were? Have you tried at-home methods, only for them to not work as well as you'd hoped?
Whatever crossroads apply to you, know that one solution is proven to work — just ask one of our many satisfied patients.
By turning to us for professional teeth whitening in Chicago, IL, you won't just gain the confidence to show off your smile at any time of day — you'll experience a world-class visit with a top compassionate team of dental specialists committed to you.
You can try over-the-counter bleaching agents, which contain hydrogen peroxide or carbamide peroxide. Or you can get a professional whitening treatment at our office that uses much higher concentrations of these substances along with a specially designed light to accelerate the process.
If your teeth have significant stains from medications such as tetracycline or if they are yellowed due to aging then this procedure may not be effective for you and we would suggest veneers instead. If your teeth have only slight staining from tobacco use, coffee or tea drinking, etc., then tooth whitening may be the right choice.
Tooth-colored fillings (composite resin)
If you have a cavity, our doctors can restore your tooth with a tooth-colored filling that will look and feel just like your natural teeth.
These fillings are made of durable composite resins that are matched to the color of your teeth so they blend in seamlessly. We also offer white ceramic or porcelain inlays and onlays for larger cavities.
Chicago Dental Veneers (Porcelain Veneers)
Everyone wants a big bright white smile — and one of the most effective ways in achieving the caliber of brilliance you've always dreamed of is by turning to our cosmetic dental specialists for veneer implants and porcelain veneers.
Whether you have chipped or discolored teeth, our dental team can help restore your natural smile with the power of a translucent, wafer-thin shell — as well as a first-class dental experience through and through.
Dental veneers are wafer-thin, custom-made shells of tooth-colored porcelain or resin that cover the front surface of the teeth.
After removing about a half-millimeter of enamel from the tooth surface, these thin shells are bonded (cemented) to the front of the teeth, changing their color, shape, size, or length. Veneers are often called "Hollywood teeth."
Dental veneers are essentially laminates or sheets typically applied to the tooth enamel of the front-facing teeth.
Considered to be the most convenient and predictable way to restore your smile, our Chicago cosmetic veneers are a popular choice among dental patients with either:
Tooth discolorations

Broken teeth

Missing teeth

Worn-out teeth
Your smile is one of the first things people notice about you, so it's key to keep it looking its best. Six Corners Family Dental can give you the smile you've always wanted.
Chicago Dental Veneers Costs
What are the costs associated with cosmetic dental work and Dental Veneers or Laminates? Thats a common question and many people might think its not as important or write it off as not possible.
Yet it all depends on what kind of cosmetic dental work you get done.  There are a lot of different options and some things cost more than others. Yet sometimes all you maybe need is a good teeth whitening, or dental bonding or veneers and laminates.
The best thing to do is contact top Cosmetic Dentist Larry Fisher and discuss what your different options are. Six Corners Family Dental have some of the best pricing in Chicago.
Larry will help you figure out a good strategy to get the smile you always wanted, he is a good listener and knows what a dental patient will need.
Read more about our Veneer & Laminates Dental Services

Setup a Cosmetic Veneer Dental Appointment 
Chicago Dental Bonding
Dr. Larry A. Fisher, DDS is an experienced Chicago Dentist located in the Portage Park area and can assist you with all of your cosmetic dental needs including Dental Bonding.
In dental bonding, a tooth-colored, putty-like resin, which is a durable plastic material, is applied to the tooth and hardened with an ultraviolet or laser light, bonding the material to the tooth.
Your cosmetic dentist then trims, shapes, and polishes it. Bonding can repair decayed, chipped, cracked, or misshapen teeth; it is also a good cosmetic alternative to, or replacement for, amalgam or silver fillings.
Larry Fisher is one of the top dental bonding dentists in Chicago
Dr. Fisher has over 35 years of experience performing dental bonding in the Chicago area. He is a highly skilled and experienced cosmetic dentist who can give you the smile you have always wanted.
Dr. Fisher uses only the highest quality materials for his dental bonding procedures, and he will work with you to ensure that your new smile looks natural and beautiful.
How does Dental Bonding Work?
Dental bonding is a treatment in which tooth-colored materials are used to improve the look of your teeth.
The procedure can be used for a number of different purposes, including:
* To make teeth look longer
* To change the shape of teeth
* To improve the color of teeth
* To close gaps between teeth
Tooth bonding techniques have various clinical applications including operative dentistry and preventive dentistry as well as cosmetic and pediatric dentistry, prosthodontics, and orthodontics.
Read more about our Dental Bonding Dental Services

Setup a Chicago Dental Bonding Appointment 
Chicago Dental Crowns
A dental crown, also known as a cap, fits over and replaces the entire decayed or damaged tooth above the gum line, restoring its shape, size, strength, and appearance.
Crowns keep a weak tooth from breaking or hold a cracked tooth together; they can be used cosmetically to cover misshapen or severely discolored teeth. Crowns can be made from metal, porcelain-fused-to-metal, resin, or ceramic materials. 
Chicago Dental Implants
Dental implants are titanium replacement tooth roots inserted into the bone socket of the missing tooth.
As the jawbone heals, it grows around the implanted metal post, anchoring it securely in the jaw and providing a foundation for a replacement tooth.
Cosmetic Dentists Near Me
If you are located in the Chicago area and are looking for a dentist close to you, contact the Chicago cosmetic dental professionals at Six Corners Family Dental.  
---
We can help get you the beautiful smile you have been after, and for a fair price. Then you will see why that Larry Fisher is considered the best cosmetic dentist in Chicago!
Call us at (773) 282-4508 or fill out the online dental contact form.
Other Dental Posts
 Chicago Dental Care Near Me
Top Chicago Cosmetic Dental Services 
 Emergency Dental Care in Chicago
 Dentist Open on Saturday Near Me
 View other Dental Blog Posts & FAQs
Contact Larry A. Fisher, DDS‎
(773) 282-4508
(224) 558-4508 – Chicago Emergency Dentist 24/7
---
Chicago Emergency Dentist – 24/7 Phone #
Dentist Open on Weekends Near Me
Best Dentist in Chicago Larry Fisher
Chicago General & Restorative Dental Services
DentalCare inChicago Top Chicago Illinois Dentist Your dental health is an essential part of your overall wellbeing. However, finding the right dentist in Chicago, IL …