Chicago Cosmetic

Dental Services

Guide
Add a header to begin generating the table of contents
Cosmetic Dentistry Services in Chicago
Are you comfortable with your smile? Tooth discoloration, decay, and damage can affect your comfort, but they can also hurt your confidence.
At Six Corners Family Dental, we want our dental patients to receive the best and most comprehensive dental care possible.
As one of the top cosmetic dentists in Chicago, we offer various procedures to help you achieve a healthier, brighter smile.
What is Cosmetic Dentistry?
Cosmetic dentistry is a branch of dentistry that focuses on improving the appearance of teeth. It can involve procedures such as whitening, crowns, implants and dental bonding.
While general dentistry covers all your essential dental needs, cosmetic dentistry is the confidence booster that dials your smile in perfectly.
If you have been thinking about enhancing your smile and giving yourself a real confidence boost, look no further. 
Benefits of Cosmetic Dental Care
Your smile is one of the first things people notice about you, so it's important to keep it looking its best. cosmetic dental care can give you the smile you've always wanted.
There are many benefits to cosmetic dental care, including:
🪥 Improvement in oral health: By correcting teeth alignment and bite problems, cosmetic dentistry can actually improve your overall oral health. This is because straight teeth are easier to clean and less likely to develop cavities or other problems.
🪥 Increased self-confidence: A beautiful smile can boost your confidence and make you -feel better about yourself. This can lead to more success in both your personal and professional life.
🪥 Improved oral function: In some cases, cosmetic dental procedures can improve the way your teeth function. For example, veneers can help protect teeth from wear and tear.
🪥 Better overall health: Because cosmetic dentistry can improve oral health, it can also lead to better overall health. This is because gum disease has been linked to a number of serious conditions, such as heart disease and stroke.
Chicago Cosmetic Dentists – Services Offered
Feeling good when you smile is a true asset. At the Chicago Illinois Cosmetic Dental offices of Larry A. Fisher, cosmetic dentistry by our dental team can offer you a head-turning smile.
Sometimes just a few minor changes make all the difference. In other cases, you may want to address many teeth or consider doing a dental implant. If you need a root canal as well as a dental crown, we have you covered and can assist and fix any situation.
Bring us your concerns, and our doctors can plot the course for your ideal smile. Here are some of the different cosmetic dental services we offer.
Dental Customized Ceramic Veneers
Our ceramic veneers are completely customized to your smile using a conservative prep technique. The material used to craft your veneer offers a high aesthetic potential. The minimal prep technique in conjunction with the high-grade material results in dental veneers that look and feel natural.
Dental porcelain veneers are wafer-thin, custom-made shells of tooth-colored porcelain or resin that cover the front surface of the teeth.
After removing about a half-millimeter of enamel from the tooth surface, these thin shells are bonded (cemented) to the front of the teeth, changing their color, shape, size, or length. These are often called "Hollywood teeth."
🦷 Read more about our Hollywood Teeth Dental Services
Teeth Whitening Services in Chicago
If you are looking for the best cosmetic dentist in Chicago, look no further than teeth whitening services from Dr. Larry Fisher of Six Corners Family Dental care.
Our team of skilled cosmetic dentists can provide you with professional teeth whitening services that will leave your smile looking its best.
We offer a variety of different teeth whitening options to choose from, so we can tailor our services to meet your specific needs and goals. Contact us today to schedule a consultation!
🦷 Read more about our Chicago Teeth Whitening Services
Chicago Dental Bonding Services
In dental bonding, a tooth-colored, putty-like resin, which is a durable plastic material, is applied to the tooth and hardened with an ultraviolet or laser light, bonding the material to the tooth.
Your cosmetic dentist then trims, shapes, and polishes it. Bonding can repair decayed, chipped, cracked, or misshapen teeth; it is also a good cosmetic alternative to, or replacement for, amalgam or silver fillings.
🦷 Read more about our Chicago Dental Bonding Services
Chicago Dental Crown Services
A dental crown, also known as a cap, fits over and replaces the entire decayed or damaged tooth above the gum line, restoring its shape, size, strength, and appearance.
Crowns keep a weak tooth from breaking or hold a cracked tooth together; they can be used cosmetically to cover misshapen or severely discolored teeth.
Crowns can be made from metal, porcelain-fused-to-metal, resin, or ceramic.
🦷 Read more about our Chicago Dental Crown Services
Cosmetic Dentist Services Near Me – Chicago Locations
As a Chicago cosmetic dentist that prioritizes patient comfort, we offer sedation, including nitrous oxide for a painless, stress-free path to the perfect smile for those in:
Portage Park
Jefferson Park
Lincoln Park
Streeterville
Gold Coast
River North
River East
Bucktown
Wicker Park
Logan Square
West Loop
Chicago Loop
Skokie
Glenview
Wilmette
Northbrook
Northfield
Winnetka
Glencoe
Evanston
And beyond! We have dental clients that come all the way from Indiana to see us!
Our procedures are carried out by board-certified Chicago cosmetic dentists who are expertly skilled with modern tools and equipment to ensure beautiful, quality results that will last forever.
Contact our cosmetic dentist professionals in Chicago, IL, to schedule a no-obligation dental consultation!
Best Cosmetic Dentist in Chicago
If you are looking for the best cosmetic dentist in Chicago, look no further than Dr. Larry A. Fisher, DDS. He is a highly skilled and experienced cosmetic dentist who can help you achieve the beautiful smile you have always wanted.
Dr. Fisher offers a wide range of cosmetic dentistry services, including teeth whitening, veneers, crowns, bridges, and more.
He uses state-of-the-art equipment and techniques to ensure that his patients receive the best possible care.
In addition to being an excellent cosmetic dentist, Dr. Larry Fisher is also a great listener.
He will take the time to understand your goals and develop a treatment plan that is tailored specifically for you. He also offers financing options so that you can get the smile of your dreams without breaking the bank!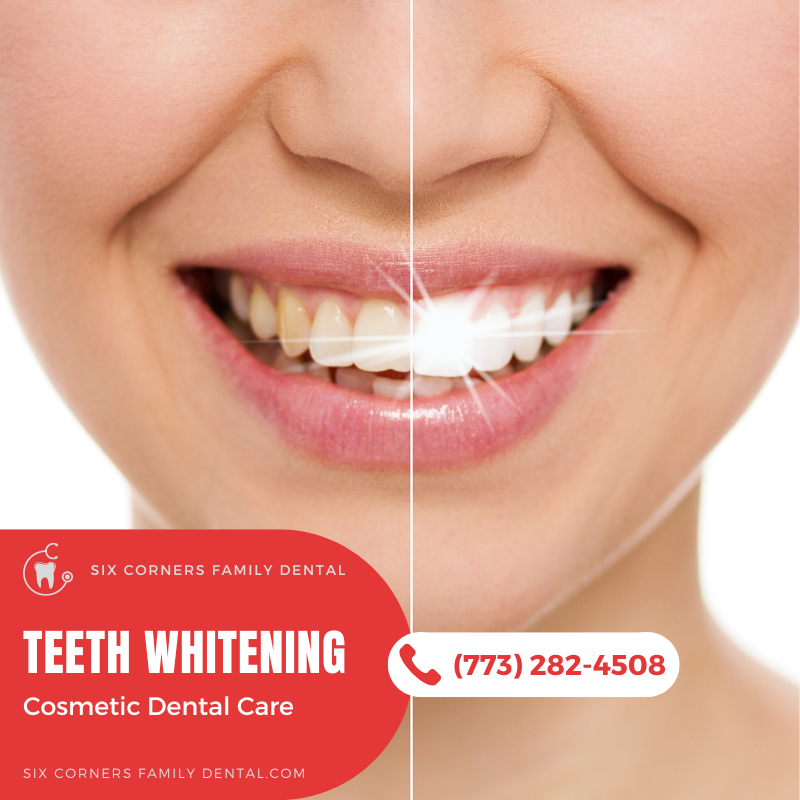 How do you find the best Chicago Cosmetic Dentist for You?
The only way to really find a good dentist that will work for you, in the long run, is to meet the dentist and test them out. Referrals and good reviews always help, as does having lower prices than most Chicago dentists.
High-quality dentistry is so important, especially when it comes to cosmetic treatment. If you are in need of cosmetic dental work in Chicago, get in touch with The Chicago Dentists at Six Corners Family Dental today.
Our top-notch team would be happy to help you schedule an appointment with Dr. Larry A. Fisher, DDS our premier cosmetic dentist. Your dream smile is just one call away.
Cosmetic dentists are easy to find, but a great cosmetic dentist in Chicago is not easy. If you need apne, invisalign, american dental or any other cosmetic dental service, we have you covered.
Setup Cosmetic Dental Consultation
Dr. Fisher is currently accepting new patients, so call today to schedule a consultation. You can also visit the Chicago cosmetic dental services FAQ page to learn more about cosmetic dentistry and the services the cosmetic dental office offers.
Schedule an Appointment with our Cosmetic Dentists in Chicago, IL
If you are looking for the best dentist in Chicago, contact Larry Fisher for your next cosmetic dental procedure.
They also offer financing options so that you can get the smile of your dreams without breaking the bank! We have state-of-the-art equipment and can help get you a healthy smile and improve your overall dental health.
We are part of the Chicago dental society and a top Chicago dental clinic that has a professional office staff.
We can help get you the beautiful smile you have been after, and for a fair price. Then you will see why that Larry Fisher is considered the best cosmetic dentist in Chicago!
🪥Other Dental Posts
Chicago Dental Care Near Me
Emergency Dental Care in Chicago
 Dentist Open on Saturday Near Me
 Best Dentist in Chicago Larry Fisher 
 View other Dental Blog Posts & FAQs
Contact Larry A. Fisher, DDS‎
(773) 282-4508
(224) 558-4508 – Chicago Emergency Dentist 24/7